Control Panel Design & Build
Soag offer services for Design, Build, Installation and Commissioning on a wide range of Electrical, Control & Instrumentation Systems, allowing a full Turnkey Electrical and Control Package which can offer substantial cost savings against independent sourcing.
Our capabilities cover:
Electrical Control Panel design & build
Manufacture and installation of Control Panels
Motor starter panels
Motor control centre's
AC drives & invertors
Servo drives
PLC panels
Pneumatic panels
Remote I/O stations
HMI Panels
Operator stations
Upgrades and renewal of control systems where equipment age creates support problems and modernisation is required
Design – Manufacture – Deliver – Install & Commission
Soag work closely with the client, with great emphasis on the client's requirements. All panels are designed using sophisticated EPLAN P8 electrical CAD software. We are able to work to customer pre-determined specifications or provide advice and design ideas for a simple or complex project. We offer bespoke custom built panels from small motor starter panels, control stations, bespoke drive systems, PLC driven controllers to large intelligent CNC control centres with all of our panels conforming to the latest industry standards.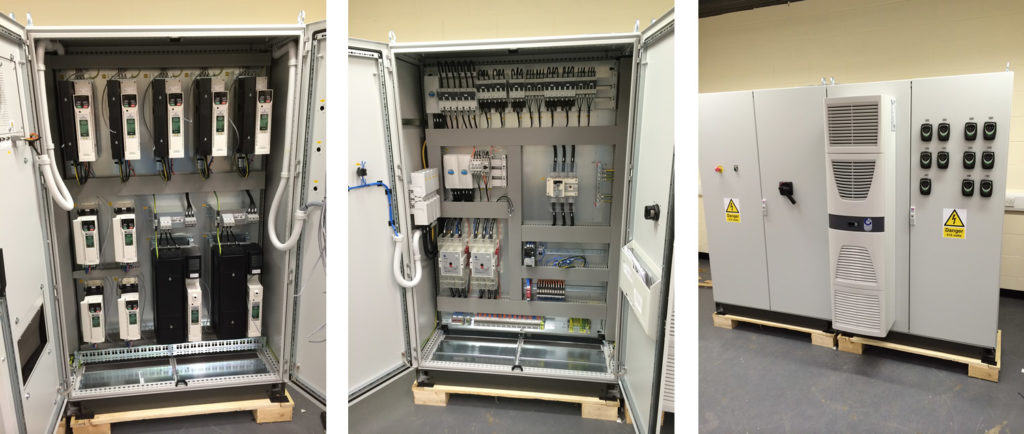 All control panels are built to the highest standards in panel wiring and assembly with due regard being placed upon the ease of use and maintainability. Control panels can include simple relay logic, variable speed drives, HMI and touch screen, PLC's and full CNC controllers.
Applications cover a wide range of industries including water/pump treatment, nuclear, machine tool and automation.
Modernisation & Refurbishment
Where an electrical control panel is already in use and changes are sought we can assist in retrofitting new panels to existing machines.
Control Panel Compliance
Our designers are capable of taking an initial idea and transform it into a working system that will meet all the necessary standards. Soag adhere to all the European and British Standards to provide a fully compliant system. The Directives that govern the standards include:-
Machinery Directive (98/37/EEC)
Low Voltage Directive (73/23/EEC)
EMC Directive (89/336/EEC)